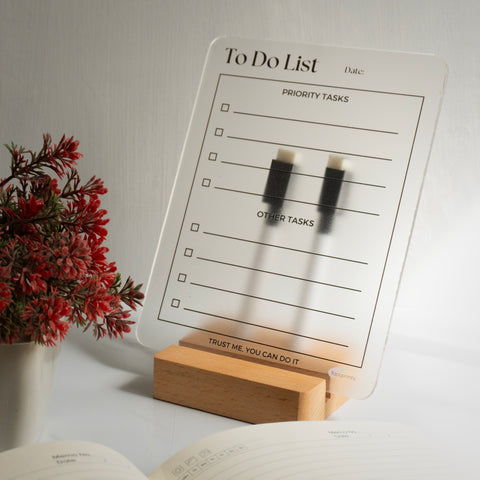 Do you want to feel like a Winner daily?
If you want to feel sorted all day long, then planning your daily tasks is something that will help you stay motivated all day.
Our newly launched "To-Do List" can be your new Best Friend. ­­It is perfect for setting Goals and planning Actions to achieve them.
To-Do List is designed to help you plan a productive day in the simplest way. We've made it into a note-pad format to make it easy to carry it in your bag and use in the office or in class!

It's quick, simple and efficient.
The layout of the To-do list helps you break your goals down into Priority tasks and Other Tasks.
Priorities Tasks - it helps in setting the top priorities of the day, making it easier to achieve your daily goals.
Other tasks - you can jot down all your small tasks which can be completed after priority tasks.
Product Details:

5 x 7 inches Frosted To-do List
Wooden Stand
2 Complimentary Marker